Our History
SALT – Life's Most Essential Mineral
It is well known that since the beginning of time, salt has been a critical part of man's life. It has influenced the location of nations and cities; it has been the cause of wars; it has given rise to a number of superstitions and religious beliefs; and together with air and water, it has formed one of the three foremost ingredients to sustain human life.
At Dominion Salt we are proud of the role we perform – and will continue with – in harvesting salt from the pristine waters of the Southern Pacific, then refining and delivering it safely to a range of diverse industries and destinations around the world.
Our work really does make a difference for the betterment of mankind.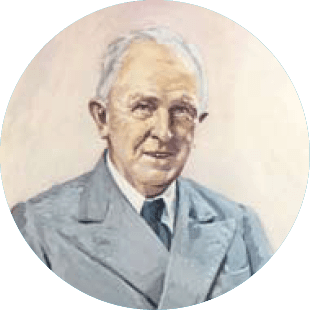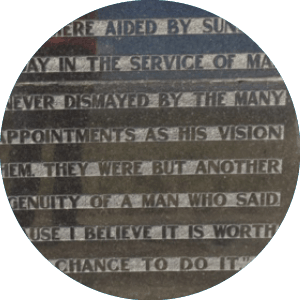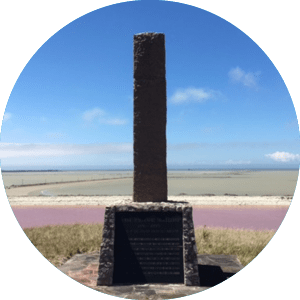 Pioneer of New Zealand Solar Salt Industry
The story of Dominion Salt has been called 'the story of a great New Zealand Industry' and much of the accolade sits firmly at the feet of our founder, George Waldermar Skellerup. With a vision to create salt by the solar method in New Zealand, George Skellerup defied many critics and cynics and proved that with tenacity and a clear focus, anything is possible.
As testimony and since 1949, Dominion Salt has been turning out enough salt crystals at Lake Grassmere to produce a mountain of salt each harvest season, satisfying customer requirements across the country and the globe. To honour George Skellerup, a monument is sited at Lake Grassmere where his entrepreneurial spirit is encapsulated as follows:
Words from Monument erected on "Skellerup Hill" at Lake Grassmere in 1961
The winds of Lake Grassmere, aided by the sunshine and science, work today in the service of man. G. W. Skellerup was never dismayed by the many set backs and disappointments as his vision went far beyond them. They were but another challenge to the ingenuity of a man who said:
"I am doing this because I believe it is worth doing and I have the chance to do it."
Our Locations
Lake Grassmere
Dominion Salt was established in this location in 1942 by our founder George Skellerup. During the Second World War years chemicals where in short supply, which included chemicals that used salt (Sodium Chloride). George recognised this and travelled to Lake Grassmere near Blenheim in NZ's South Island to establish a salt industry.
The Lake Grassmere site was chosen for its large areas of suitable flat land, high sunshine hours and the dry north-westerly winds which perfectly suited the solar evaporation process for salt making. Lake Grassmere continues to harvest and manufacture salt at this site today.
Seawater contains just over 2.5 per cent sodium chloride, together with significant amounts of other salts. Some 60,000 – 70,000 tonnes of salt are harvested from Lake Grassmere each year. Seawater is pumped into the 688 hectare main lake continuously through the summer. As nature does its work and evaporation increases the sea waters strength, it is pumped into a series of concentrating ponds, where further evaporation takes place.
When the brine reaches saturation point it is transferred into crystallisation ponds during the summer months. The salt making season is of six months duration commencing in early October. Harvesting salt usually begins by early March and can last from four to six weeks. During this time the salt crust is lifted from the bottom of the ponds by harvesting machinery, transported to two washing plants where it is washed in brine before stacking in 20 meter high piles.
The stacks of salt can contain 100,000 tonnes of salt and are readily visible by day and night from the Blenheim-Christchurch main highway. Salt production is highly dependent on low rainfall and evaporation, so it is necessary to hold large stockpiles of salt to counter the fluctuations in annual production.
As well as harvesting salt, Lake Grassmere has a refinery and during this process the salt is rewashed, crushed, dried, and screened before being packed into bulk bags or small bags then palletised ready for distribution.
Salt destined for the domestic table salt market accounts for a very small fraction of the harvest. This product is iodised and processed at the Cerebos Skellerup packing plant also located at Lake Grassmere.
Read our brochure for more information on the salt harvest process.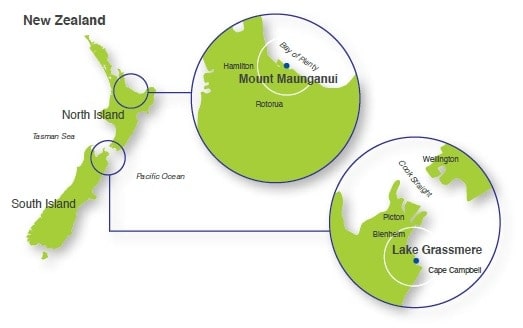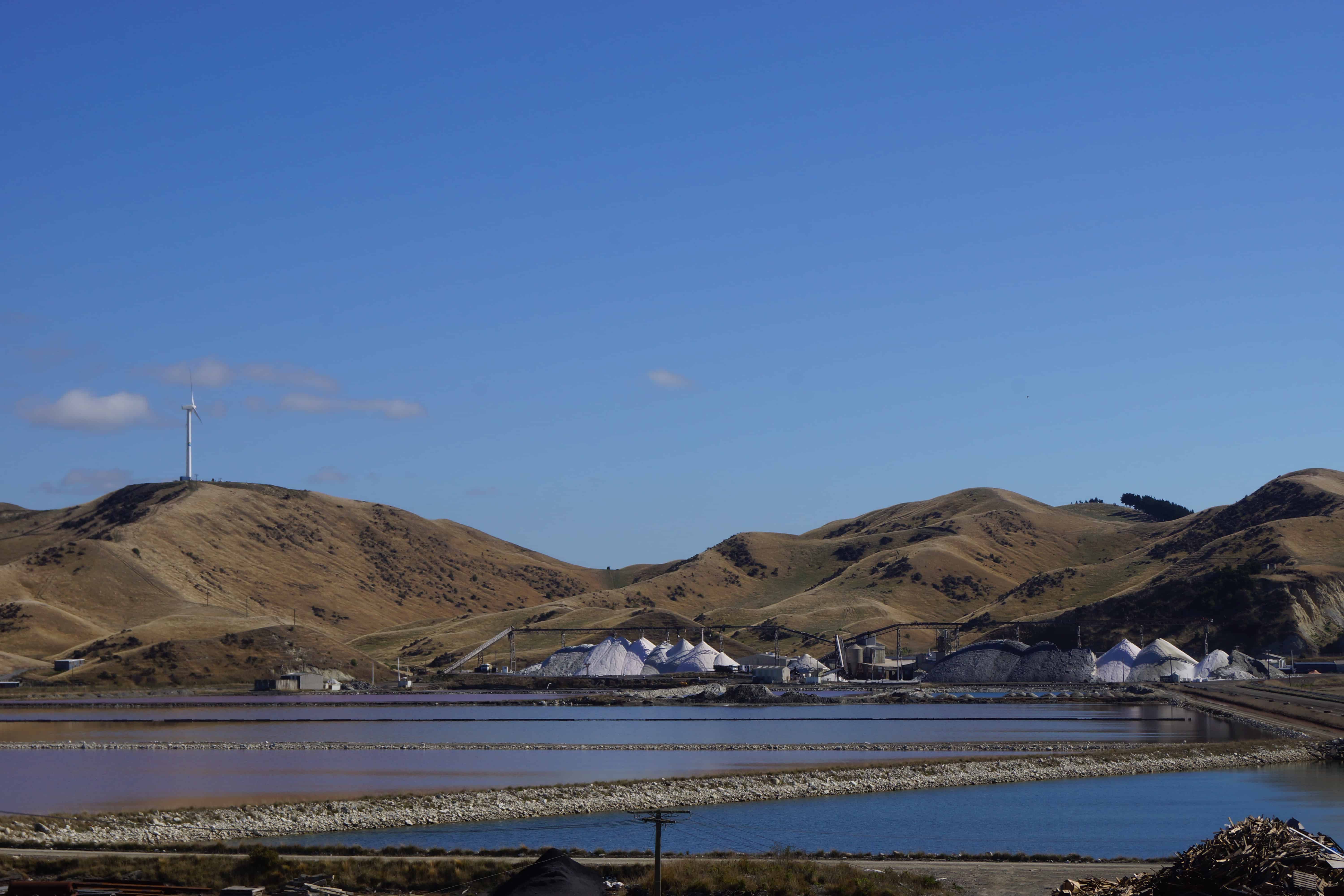 Mount Maunganui
In the early 1970's, it became apparent than even with an annual output of 60,000 tonnes Lake Grassmere could not meet industry's growing need for salt. In 1971, at Mount Maunganui in the North Island New Zealand, a site was chosen for a plant to process bulk salt from either Lake Grassmere or overseas. Situated adjacent to one of New Zealand's largest export ports – the Port of Tauranga and in close proximity to key consumers such as the pulp and paper industry the site proved ideal.
During 1973 – 1974, Dominion Salt commissioned a vacuum refinery at Mount Maunganui, with a view to supplying high purity, fine salt for food products. A smaller unit was built at Lake Grassmere in 1974 – 1975. Vacuum salt is of much higher purity than solar salt and is formed by the artificial evaporation of treated pure brine in a near vacuum.
The salt is first dissolved, then treated to purify it. The clarified bine then goes through an evaporation plant where crystals are formed in a super-saturated solution. The crystals are removed in a slurry, then dried. Pure Dried Vacuum Salt (PDV salt) is highly versatile and can be used in a wide range of products. As part of the vacuum process pure salt can be separated by screening into fine and coarse particles. Extremely fine salt is milled in a flour-like consistency for use in dairy products and baking.
A Pharmaceutical Sodium Chloride grade was developed in 1977 and is made from specifically prepared, high purity brine using the vacuum process. This premium grade meets the Pharmacopeia Standards of British (BP), European (PhEur) United States (USP) and Japanese (JP) and sold nationally and internationally. Pharmaceutical Salt is now our largest export product shipped to over 30 countries around the world.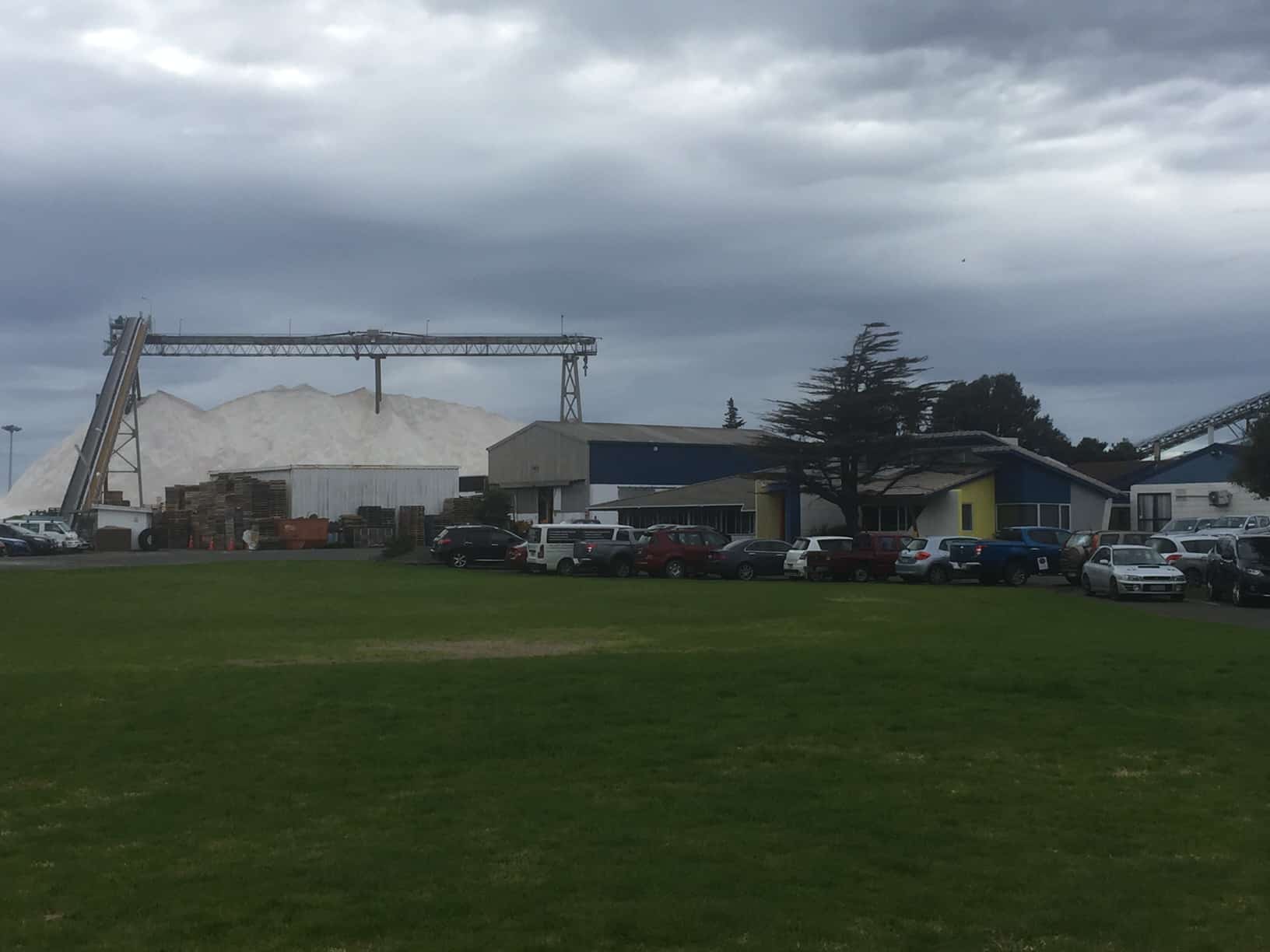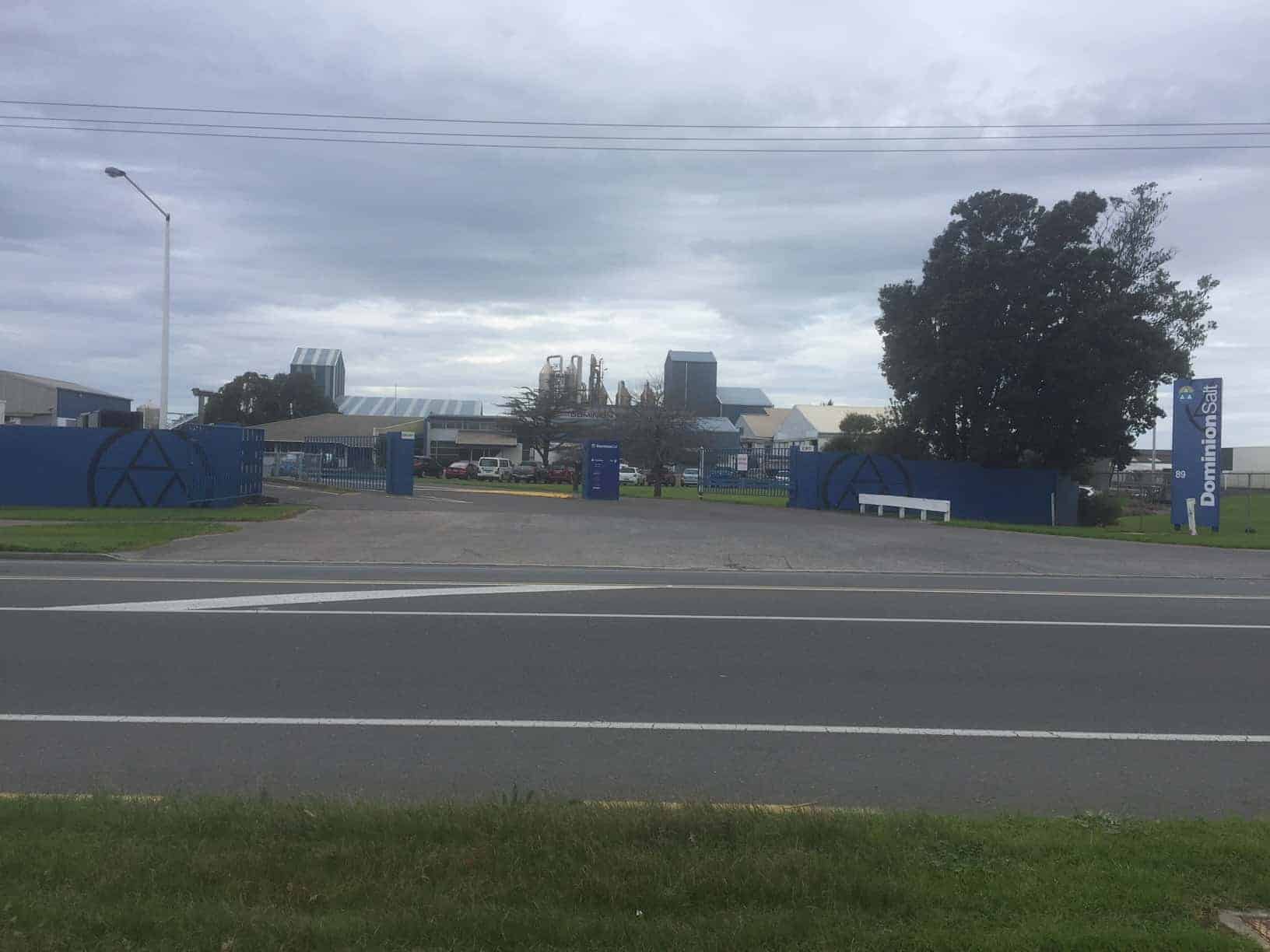 Consulting Service
Dominion Salt offers a full range of consulting services for the design, construction and management of equipment and systems to handle salt products. We offer specialised consulting services for the design, construction and management of salt production as well as manufacturing and logistical systems.
Contact our team for further information on our consulting services.